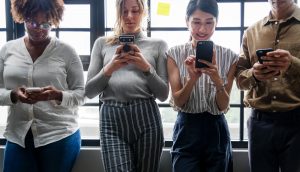 Everyone has a cell phone these days. Well, nearly everyone, as the Pew Research Center found that 95% of Americans currently own some kind of a mobile communication device.
Consequently, the home phone has almost died off entirely. Yet, while these home landlines are seen as outdated, desk phones are still found at most businesses. In this era of the smartphone, are they essential?
Let's explore if desk phones are an old tool or are necessary for a functional business.
Questions Businesses Will Face
According to Citrix, millennials will make up 50% of the global workforce by 2020. A frequent characterization of millennials is that they like to question the status quo of ordinary business practices.
Writing for No Jitter, Dan Aylward provides questions that your organization will face as millennials become the workforce majority:
If my work number rings my cell phone (twinning), why have a desk phone?
If I get a mobile app for making and receiving calls, messaging and even texting through my work phone system, why have a desk phone?
If the phone system/service has software integrated into the desktop computer (a.k.a. softphones), why have a desk phone?
If I'm away from my desk and can be reached on my smartphone, I'm more productive. Why can't I do the same thing in the office?
Do you know the answers? Are you paying attention to how your staff prefers to work?
As we head towards the 2020s, it's important to take note of employees changing preferences and optimize your business for them — instead of resisting new ways to work.
End of Phone Systems?
Will millennials kill business phone systems?
No, they won't.
There's a distinct difference between removing desk phone hardware from your office and removing a business phone system altogether. Your business needs centralized communication; a phone number for leads to call, call routing to the right person, employees who answer the phone number and so forth. Desk phones aren't required for a phone system.
There many apps that let professionals forward calls from their desk phone to their cell phone. Additionally, there are mobile UC applications that provide your business with the power of a phone system without the standard phone line/desk setup.
It's important to note that using mobile UC apps takes more than just downloading something from the apps store. Michael Brandenburg from TechTarget explains what it takes to deploy UC apps effectively:
"A successful mobile unified communications deployment requires an enterprise infrastructure that can support it. Users equipped with mobile UC will test the mettle of an enterprise wireless LAN whenever they are working at the office. UC managers should collaborate with the networking team to ensure the wireless LAN is ready. Mobile VoIP users will expect their smartphones to work wherever they roam in a campus network, whether in stairwells, shop floors or even outdoors between buildings."
A switch to an all mobile work environment still requires careful planning and effort; something to consider before you decide to do away with your desk phones.
Potential Roadblocks
Still committed to nixing desk phones? Here's what Aylward and us here at Bandwidth Simplified think you need to consider before you decide.
Bad Phone Signal. If employees can't get a signal in your office, a transition away from physical phones is destined to fail. Mobile phone sound quality isn't typically as stable and clear as a desk phone, which can hurt how well your business is communicating with clients. Add dropped calls to that mix and your business is in trouble.
Finances. Are you going to be paying for your employee's cellular data plans? Are the applications you'll need to purchase for your employees less expensive than desk phones? You'll want to make sure the project makes financial sense before you commit.
Wi-Fi Capacity. Are you going to be relying on your Wi-Fi network to field calls? Can your Wi-Fi handle the additional bandwidth? You'll need to ensure that calls don't drop in certain areas of your office.
Cell Phone Issues. What happens when your employee breaks or loses their smartphone? Do you have a replacement for them? When you don't have a desk phone, your employees have no backup.
Each of these factors needs to be accounted for while planning a move away from desk phones. Without detailed plans in place, it's not worth moving away from the status quo which could be why desk phones are still so prevalent today.
Verdict
Clearly, there are many factors making the idea of a mobile phone only workforce challenging to do.
But should you do away with desk phones anyway? At the risk of being anticlimactic, the answer depends on your business.
Does your leadership want to make it happen and is willing to put money, time and planning toward a solution? Is your organization full of on-the-go employees that are hardly at their desks? If you're answering yes to questions that point to desk phone hardware being unnecessary, then dump it.
If your leadership isn't entirely sold on the idea, ensuring every one of the factors listed above is accounted for with a quality solution is tough. Maybe the move toward complete business mobile adoption will be a slower process. The desk phone is entering its twilight years, but there's no telling how long those years will last.
Think your company's current communication setup could be better? We can help you determine if there's a better solution and provide you with all the options available. Contact us today for a free consultation!
Do Businesses Need Desk Phones Anymore?