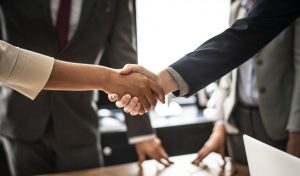 Since launching in 2012, we've grown from a small organization built around our creative problem-solving skills into a well-oiled and connected business.
Today, we offer more services than ever and collaborate with over 100 industry partners, which allows us to provide more refined, customized solutions for our clients.
Our mentality of favoring tailored solutions rather than sharing out-of-the-box services has developed with the help of the relationships we've built along the way. So, in the spirit of teamwork, we'd like to call out one of our oldest partners, Switchfast Technologies.
Switchfast Technologies is a leading IT Managed Services Provider (MSP) with a focus on IT Security for small-to-mid-sized-businesses (SMBs). Switchfast's clients understand that a true IT partner goes beyond the break/fix model and provides long-term solutions to business challenges and goals.
Today, we'd like to talk about what makes our relationship with Switchfast so beneficial for our clients.
Over the Years
What we like about working with Switchfast is their commitment to ensuring your investment in information technology provides the maximum ROI.
Similarly, we share a common goal of building lasting, trusted relationships with our clients and a vision of creating personal, hand-to-hand relationships between IT companies.
When Switchfast receives new or upgrading customers who need VoIP or ISP (data) solutions, they invite Bandwidth Simplified to join the project to facilitate these deliverables.
"Our client is usually upgrading their data services to fiber or broadband or adding a backup connection, in addition to their main phone system or provider. There's often a fair amount of consulting required to recommend and provide the right services and products, especially with phones."
-Tim Schmitt, Vice President of Sales and Marketing Switchfast Technologies
Often, we step in to supplement the movement of a project's voice and data to a new provider. Our industry experience working with various providers and deciphering telecom jargon allows us to expedite the process and ensure the best packages for clients.
Why it Works
Switchfast relies on Bandwidth Simplified to provide high-quality service. We work with either Switchfast's account team or engage directly with the client to develop a solution.
"We needed a single telecom technology partner that understood the industry inside and out. They needed to represent a broad spectrum of solutions, not just the one or two that provided the best margin. It's critical that our clients receive an extraordinary customer service experience when introduced to any partner."
-Tim Schmitt, Vice President of Sales and Marketing Switchfast Technologies
We strive to maintain strong relationships by monitoring correspondence with both the client and Switchfast in our CRM. This allows us to provide backend reporting to the Switchfast finance team so they can track and take advantage of opportunities for recurring revenue.
As we've grown and added more partners to our portfolio, the variety of services we're able to provide top-of-the-line solutions for has expanded.
Partnerships
The partnership we've fostered with Switchfast over the years is reflective of the same values we transmit to all of our clients and partners. We're always happy to help friends of ours with their data and telecom needs, and our commitment to simplifying the telecom process has only grown stronger through working with them.
To learn more about our partners and what products and services we have opportunities to put our relationships to good use for you, visit our partners directory.
Partner Spotlight – Switchfast Technologies